28 Capital Investment Incentives for Ontario Businesses to Help Buy New Equipment, Technology, and More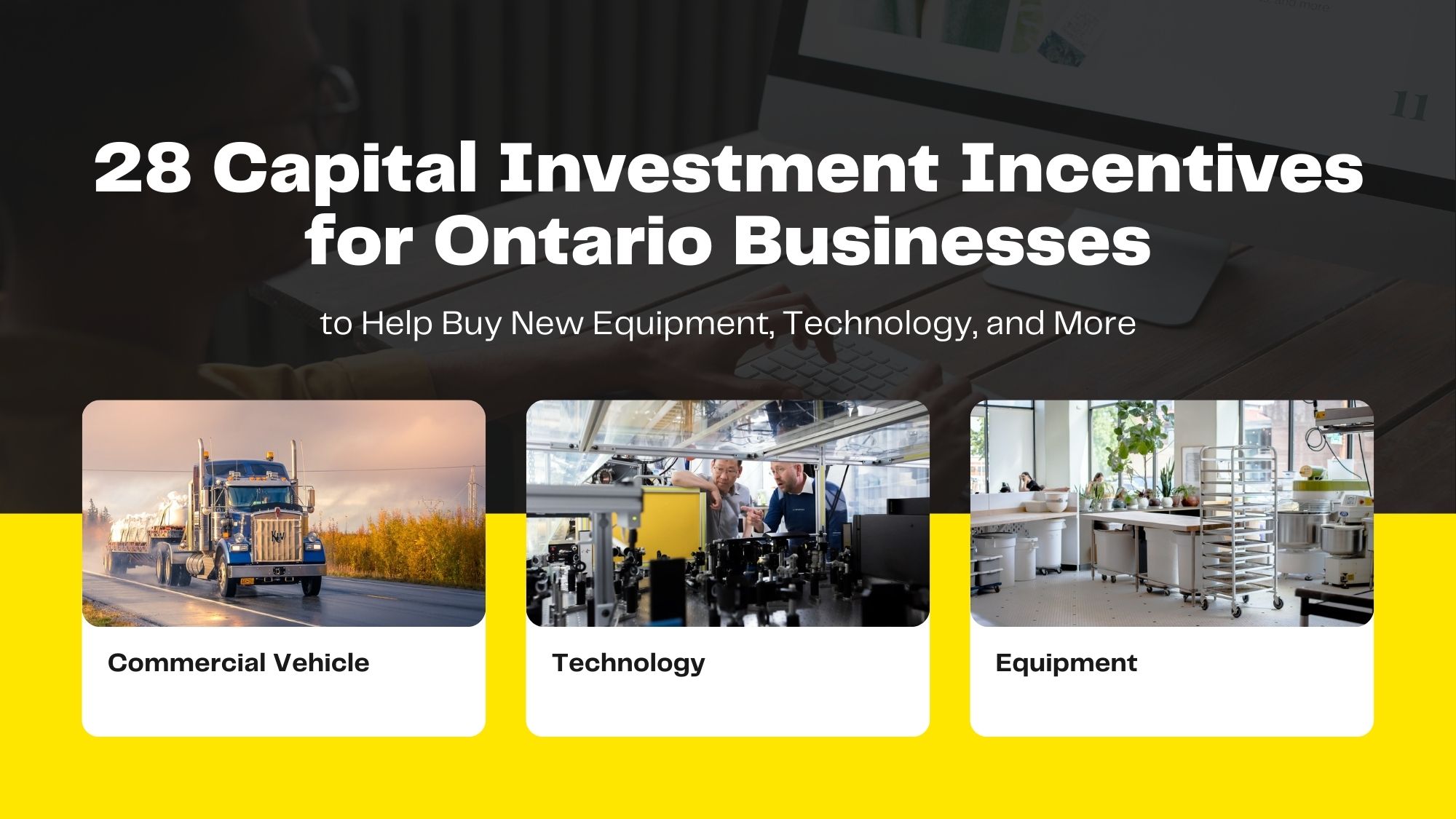 Capital expenses are something that all small business owners must deal with sooner or later. Hardware, software, equipment, infrastructure, machinery, and more all come with huge price tags, and not every entrepreneur is ready to make those payments.
So how are these business owners expected to fund these purchases? If you're not inheriting the money from a long-lost relative, winning the lottery, or appearing on Dragon's Den and getting a deal, where are the funds coming from? You can't just not buy these necessities and hope everything works out for the best. So, where do you go?
This list will have the answer, check out our list of funding that is available for small and medium-sized businesses across the country. There's a good chance you'll find some programs that will work to get you past these issues and benefit your business.
Canada-Wide Incentives
Regardless of your sector, field, or size, there are some fantastic programs available across the country to help you with the funds you need to make the purchases to improve your business. Many are repayable but come with plenty of flexibility and great terms.
If you're a dairy processor, you can get funding to help buy new infrastructure or equipment, improve your manufacturing technology or process, or modernize and/or expand your facility, and more. Non-profits and for-profits of small and medium sizes can qualify if non-profits manufacture the product for sale and the products of for-profits result in broad benefits.
Non-profit organizations should take advantage of this grant program if they need to renovate or build for the purpose of arts and heritage in any form, such as preservation, exhibition, creation, or presentation. You can qualify for half of the costs of renovation or construction to be covered and even to purchase any specialized equipment to do so.
This loan guaranteed can be what you need to make a big, necessary purchase for your agri-food or agriculture business no matter whether or not you've qualified for a grant or have been able to apply for another incentive. Provided that you are a cooperative, corporation, or partnership, with the majority of the shareholders being Canadian, you own whatever you produce and are responsible for marketing it, and you are a Canadian citizen or permanent resident, you can access these funds.
This is yet another funding program made for farmers and producers. Farmers can access this loan program to develop, start, or improve their farms, and cooperatives can use this to process, market, and distribute their products. Both, however, can use the funds on capital expenses such as buying buildings or land or build or improve existing buildings. You will have to make a business proposal directly to a credit union, chartered bank, or Caisse Populaire since Agriculture and Agri-Food Canada do not deliver the program themselves.
Through FCC you can find the financing you need with the option to either purchase your new equipment outright or buy it after leasing it first. This gives you access to the new equipment that you really need right away. Working with FCC means that you can have no administration fees, low down payment, and terms that are flexible.
If you are looking to purchase new equipment that will allow you to switch to renewable sources of energy, this program from FCC is for you. Also, upgrading to clean energy can actually save your business some money, if you haven't thought about it before now maybe you should give it a try. The terms are very flexible and you will have to pay the interest but it includes benefits such as deferred payments and interest-only payments.
Women entrepreneurs who are in the agri-food, agriculture, or agri-business sectors can have their share of funds that the FCC has dedicated to helping finance their purchases needed to start or grow a business. This is a loan so you will have to pay the principal as well as the interest, but you will also have low down payments with flexible terms.
If you're a farmer looking to make any capital investments for your agriculture business then the Advancer Loan is for you. You will have to pay interest on the outstanding amount, as with any line of credit, but this can be a small price to pay to finally have your hands on the large purchase that you haven't been able to make. There are a variety of benefits with this loan from the FCC such as reduced payments when compared to a bank, interest-only payments, and the choice of either an open variable interest rate or a locked-in rate.
Although it can be exciting when you see the need to either expand your buildings or land for your farm, the amount of funding that you need to get that done can seem daunting. You can take advantage of this loan program from the FCC to help you make the needed purchases. As with the other programs from FCC, you will have flexible terms and payment options. There are no set minimum or maximum amounts that you can apply for.
Similar to the Land & Building program above, this program from the FCC offers funding for you if the time has come to either expand or build your farm through a land transfer. If it's time to transfer ownership of your farm to the next generation or if you have an opportunity to expand your current operations through a transfer this program will help to pay the costs of the transaction. As a seller you will have a guaranteed payment in full, you can even decide to take payments over time if it helps with your taxes. As a buyer, you can benefit from this program by potentially not needing to have funding for a down payment or being able to make payments over a certain amount of time.
Contrary to what you may think, sometimes it is necessary to be in debt to make a large purchase for something that is important for your business. You can qualify for a loan from the BDC with their flexible terms, including the option to put off payments from the start, easing the pain of borrowing funds and giving you some peace of mind and the time to improve your business. Also, your personal assets will be guaranteed to be safe.
This may be of interest to a smaller audience. The BDC offers this program to fund leasing and finance companies using a securitization process, they do this to help these companies fund more small and medium-sized businesses in Canada. They offer these companies attractive rates that they are able to pass along to any of their potential customers. This is mainly tailored to bigger finance companies, however, they also offer a secured funding platform to smaller businesses.
This program from the BDC helps to provide funding to businesses by participating in operating lines of credit and term loans that already exist for businesses with other lenders, this makes the BDC a stable financing partner for these lending institutions.
Indigenous entrepreneurs can receive financing from the BDC through this program whether they're on or off-reserve. These funds can be used to purchase any fixed assets that you need for your business, it can also allow you to use it and do more such as refreshing your working capital or start exporting. There are many options for how the funding can be used. Also, a portion of the loan interest that you pay will be donated to a registered charity of your choice.
If the next step to expand your business includes buying a new building or land, the BDC can give you a hand. This loan will help to get the funding that you need to make these purchases and offers benefits such as an up to 25-year period to pay back the loan, the option to postpone any capital payments for up to 3 years, and keeping your own personal assets safe.
You should consider applying for this loan program if you have your eye on a business that you are interested in buying. There is a huge amount of funds that are needed to buy another business, but this can be an investment that can prove to be beneficial to your success. Depending on your situation, for-profits of any kind can apply to this program to acquire a business. You just need to be sure that the business you are considering buying is established or on a path to high growth, has solid financial reporting, and has a strong management team.
You can have access to the funding needed to buy new equipment through this program, such as specialized technology, production line machinery, commercial vehicles, or others. This can be done in one of two ways. The first is the Equipment Financing plan, this can be used if you already know what to buy and where you can buy it. The financing for this will cover installing, shipping, and training. The Equipment Line is the second program, this is a program to be used when researching what you need and/or the best place to purchase. This has the same costs and can be used for the same equipment types as the Equipment Financing plan but can take up to 12 months to buy the equipment.
Small and medium-sized businesses in Canada with good credit history with at least 24 months of revenue can qualify for this program to pay for assets such as hardware or software, new equipment, or assets such as trademarks or patents. One of the best parts of the program is you can take five years to pay back the loan and even postpone the capital payment for six months.
Ontario Incentives
You have access to additional funding programs if your business is located anywhere in Ontario. There is something for everyone here as well as location-specific programs. There is also a provincial tax reduction for you to look over.
This program is very specific, but it is a perfect opportunity for you if you're a tech business that is looking to advance a project that is using the ENCQOR 5G Platform as a Service (iPaaS). The funding can cover capital expenses such as testing tools, equipment, and instruments with residual values. Whether your business has partnered with healthcare facilities, municipalities, and public utilities or a stand-alone small or medium-sized business, you can apply for this grant program. The only other requirement is that you're a business based in Ontario either incorporated provincially or federally with less than 500 employees and you're developing a new product, services, technology, or process.
Projects within the agri-food, agriculture, and agri-based products sector, and also eligible costs including acquiring assets such as technology and equipment upgrades can receive funding through this grant program. During the program's intake periods, only specific projects are called for due to the numerous amounts of projects that can be eligible.
Ontario Tax Credits, Refunds, and Reductions
This is a provincial tax program that will allow your business to fully write off the costs of purchase if you are looking to purchase new machinery or equipment, even clean energy equipment. It will be a good idea to put this tax credit to use as soon as possible since it will be discontinued between 2024 and 2027.
Other Ontario Initiatives
This loan guarantee program can be what you need to help get your business the capital it needs when you are looking to buy new equipment or upgrade what you already have. This is will be a great fit if you couldn't get funding from a previous program because this one will take on some of the risks, making the lender more likely to give you a chance.
Northern Ontario Incentives
Here are a few more programs just for you if your business is located and/or operating in Northern Ontario.
If the project that you have not only needs a capital expenditure to get it going but also allows you to adapt or adopt innovative technology, so you are able to be more competitive in both home and abroad markets. The program can cover half of the costs for your project including any necessary infrastructure or equipment. Non-profits and small or medium-sized businesses can qualify for this program, but you will need to make sure that you already have secured no less than 50% of your costs, whether from partners, investors, commercial financing, or other sources.
indigenous communities or business owners with projects that include the need for any capital expenditures can benefit from this program. Anyone that is eligible can receive funding for their projects without ever having to pay it back. You can qualify as long as you're over the age of 18, an Indigenous owner, or have a majority share on or off-reserve operating in the Northern Ontario area, and can bring cash equity to the project.
If you have a business located in the Northern Ontario area and have at least one full-time employee with an innovative tech-based or manufacturing product and you're looking to expand, then you're in luck. The funding from this program can cover up to half of the eligible costs which can include purchasing equipment.
You can try this program out if new software or hardware is what your business needs. The program is offering to cover 50% of the eligible costs, so if you are looking to improve the processes of your business by buying some new software or hardware, you shouldn't hesitate to apply, it's not hard to qualify. You do have to be a full-time business that has been operating for at least a year with a valid Canadian business number and the business must be located in the Northwestern Ontario area.
If your business is operating in the Algoma district area in Northeastern Ontario, this is another program for you if you are looking to purchase new software or hardware to improve the efficiency, growth, and competitiveness of your business. If you qualify, you can receive funding for half of the costs, but you do have to come up with the rest yourself. 
Even the most expensive equipment that is purchased for your business will eventually need to be upgraded to make it more efficient, and this will cost money. This is the reason why we tend to use things until they are run straight into the ground and no longer work. If you're a small to medium-sized business in the manufacturing sector, you can receive help from this program from FedNor to help you improve or upgrade your equipment, including the hardware or software for your communications and information tech. To qualify you only need to be an established manufacturing business in the Northern Ontario area that is planning for growth and have no more than 500 employees.
Bottom Line
Now you have no reason not to make any capital expenditures that you need in order to make your business more efficient, competitive, or profitable. With all of these funding programs that are available across Canada, you can greatly ease the pain of these investments.
You can even stack programs together to raise even more funds. It can mean the difference between simply moving and functioning with the pack or getting ahead by making the right capital investments, so apply for as many as you can.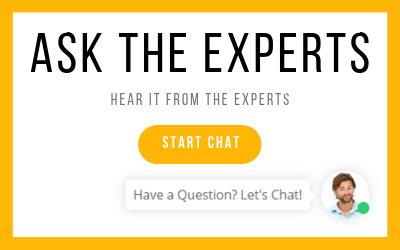 I WANT START A BUSINESS IN...
IS THERE HELP IN MY INDUSTRY?
Try the Startup Assessment now and find out what your business needs to succeed.