20 Ways CanadaStartups Can Help Your Small Business Startup
So, you want to start a small business in Canada, eh?
Well good for you. But just so you know, you are getting yourself into something that takes a lot of effort, time and of course money. It is well worth it in the end and very very rewarding if done right.
You've probably been working for somebody else this entire time and are most likely getting tired of it. Right?
I don't blame you for wanting to get into your own small business.
No more annoying boss!
No more looking over your shoulder when you're on YouTube watching cat videos.
No more worrying if you're going to get in trouble being late.
No more not being able to take off when you need to.
No more worrying about deadlines.
No more worrying about anything.
Well; actually as a business owner you worry more then an employee – but it's yours – it's for you – so who cares!
Starting a small business in Canada is TOUGH WORK, but with proper guidance, support and some funding, it can be done!
20 Ways CanadaStartups Can Help Your Small Business Startup
Have you heard about Canada Startups?
Probably, I mean – you're here right now reading this so you must have heard about it.
CanadaStartups.org is a dedicated platform and service to help small business startups to startup, to build a business plan and to find government funding for their business – all with help from small business experts who take you through the process step by step.
Here is a quick video which can explain a bit about CanadaStartups!
The dedicated platform and the associated service does cost – a one time fee of $497 which you can register for right here.
But before you register, be sure to read the 20 ways that CanadaStartups.org can help you and your small business.
Step by Step Guidance
It's very simple, when starting a small business, often the best help you can get is step by step guidance.
As a member of CanadaStartups, this is one of the main components of starting up with us – step by step guidance is provided by our experts via the Ask an Expert portal (explained in detail later), but you also have your access to the Small Business Startup Guide right within the platform.
Sounds intense, doesn't it?
It's not really. It's nearly a 100 page guide you can access via our platform to take you step by step through the entire process (works best when using it along side our Interactive Startup Timeline).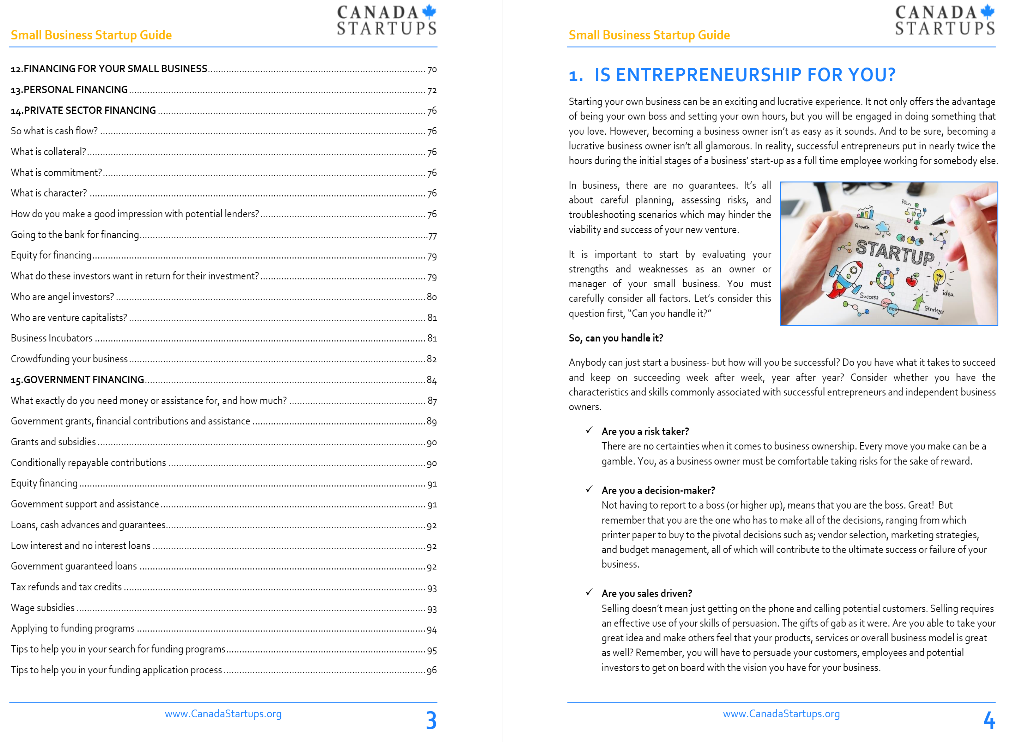 Interactive Startup Timeline
A tool that works the best with the above mentioned startup guide, the interactive startup timeline is the best tool to take you through the steps found within the startup guide – one by one as you actually implement the steps for your own business.
The Timeline is divided into 27 steps which take you through the process of starting up, developing your business plan, creating your PitchDeck presentation and finding government or private funding for your business.
Each step is explained in detail, providing you additional reading material for you to understand exactly what to do! You are also provided with tasks which you can learn from and implement into your own business.
The Timeline takes many tools and resources available via the Small Business Startup Platform, and guides you though them step by step.
The Business Plan Builder Tool
When your Business Plan Builder Tool is rated the #1 Most User Friendly, it is recommended to use it to get your business plan built with!
This is the case with the CanadaStartups's Business Plan Builder Tool.
Not only is the Business Plan Builder Tool included in your membership but it is an excellent tool that takes you step by step through building your very own business plan.
As you develop your business plan, you automatically see a PDF of your business plan being populated.
The Business Plan Builder Tool is the number one choice for those seeking funding for their small business.
Automatically create your fully functional business plan, with guidance step by step and fully completed financials and financial projections!
Are you ready to get started on your own business plan? If you're a bit scared to jump in, keep in mind you have experts who help guide you and review your plan too!
The Business Plan Builder Tool is divided into a few sections which include:
The Basic Business Information
Your Business Idea
Your Products and your Sales
Your Marketing
Personnel
Financial Information
Financial Reports
These are the critical sections which make up your business plan and each section is broken down into easy to understand components to give you the best opportunity to create a proper business plan.
Business Plan Scoring
While there are many business plan templates and guides on how to create the proper business plan out there, you can never be sure which one is the best. Anybody can just give you a template and say "this works".
Our Business Plan Builder Tool is one that is used by thousands of members to help create their business plan, especially for those who use the business plan to apply for funding!
It simply has to be good.
But to ensure that it is that good, we've implemented a scoring system which we call the BPQS (Business Plan Quality Score).
The CanadaStartups Business Plan Quality Score™ (BPQS), is a predictive algorithm that helps forecast the likelihood of success for your small business. The score of your business plan evaluates the strength of your business plan and financial forecasts as you write your plan.
Your plan is ranked on a scale of 0 to 1,000 .
0 is the lowest score; 1,000 is the highest.
The closer you are to the 1,000 points, the better your business plan may be seen by investors and funding agencies.
As you develop your business plan, our experts will be able to review your score to analyse your business plan in order to ensure you're on the right track and are able to complete your business plan to the best of your abilities.
Business Plan Review Service
Did you know that if you're to ask a company to review your business plan and provide you feedback and recommendations that this can cost upwards of $1,500?
Well, as a member of Canada Startups – the business plan review service is included in your membership!
We want you to succeed and in order to do that, your business plan has to be perfect!
Using the Ask an Expert feature of our platform, you have access to our experts 24/7 – yes 24/7 – which means that if you need to have your plan looked at, simply send in a request and we get started!
Our business plan experts are individuals who are in the industry, have completed numerous businesses, have had many of their own businesses and have helped thousands succeed!
From simple questions to the more complex ones, our experts are there to ensure that even with no experience building a business plan (ever), you can get one done and make it perfect!
Investor PitchDeck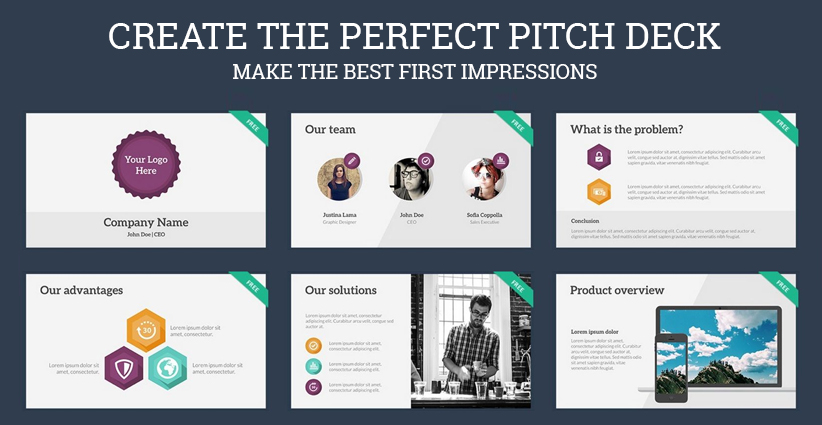 The Investor PitchDeck, an excellent way to create a powerful presentation for your potential investors, business partners and government funding agencies to see.
When using the Canada Startups PitchDeck presentation maker, you are provided with a powerful sample presentation which you can turn into your own in just a few clicks.
Now only are you able to create the presentation but you are able to share it along side your business plan to the potential funding agencies and investors you decide to apply to from within the Funding Database!
Investor PitchDeck Review Service
Everyone has an opinion on what a investor pitchdeck presentation should look like. But what is the best, what is recommended, what is for funding agencies – this depends on many factors.
Who better to help you figure out what makes the best pitchdeck presentation then those experts who deal with pitchdeck's all day, every day – and ensure that they are perfected for whatever the case may be.
At any time, as a member of Canada Startups you have access to the review team who is able to take your presentation and run in through a review process and provide recommendation how to improve it to ensure that you have what it takes to apply to funding!
The Funding Database
The Funding Database is one of the most powerful funding databases on the web which contains access to all government funding programs and hundreds of private investors.
Don't believe it?
Google it – "business funding database".
There is a reason we are #1 rated on Google – everyone clicks!

The Funding Database provides the Canada Startups members to hundred of private investors and hundreds of government funding programs. Making it easy to search for available funding without having to spend 3-4 weeks on average to find funding.
As a small business owner, time is limited so anything you can do to save that precious time – use it.
The Funding Database's programs are self explanatory and ensure that users can search for programs and investors very easily.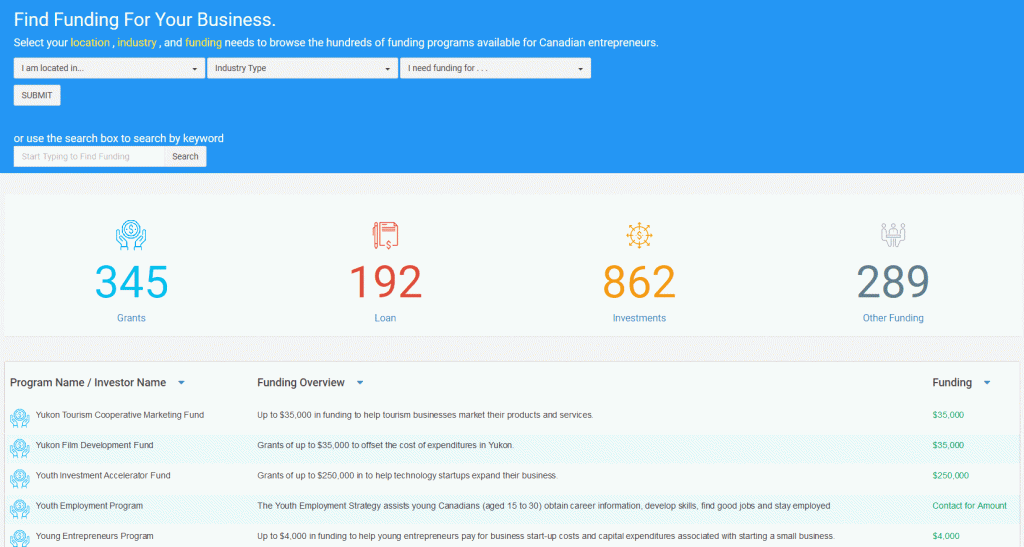 Government Funding Programs
The Canadian government has hundreds of funding programs from various agencies across the country. These funding programs are spread across and offered on multiple government levels which makes it extremely difficult to locate all of the funding programs on your own.
In fact, a typical funding search on your own can take 3-4 weeks.
While the Canadian government website is very easy to use and shows many funding programs, our Funding Database provides the service and the answers to the questions which one may have.
Currently, the Funding Database holds access to 305 government grants, 191 government loans and 289 other funding programs offered via the Canadian government.
Accessing these programs is included with your membership along a detailed explanation of who the program is for, how to apply and much more!
Private Investors Access
With access to over 800 private investors, you have a lot of potential as a member of Canada Startups to access these investors and to obtain funding.
When it comes to applying for funding via private investors you do need to have 2 things prepared.
Your business plan which clearly explains your business model as well as your break down of the funding which you need.
A PitchDeck presentation created with the recommended slides!
As a member of Canada Startups, if you're ready to start your search for private investors, reach out to the experts prior to starting for best guidance on this!
Personalized Funding Search
A key feature of the Canada Startups Funding Database is the Personalized Funding Search.
Doesn't mean much, but it is a tool that is critical to the success of your business getting funded!
Along side the Ask an Expert feature, one would request help from our experts to complete the personalized funding search. This is simply you asking our experts to help you find funding programs which are available for your business. This is done by having the experts review your business plan, figure out your location, your industry and your specific funding needs – based on that information, a report is created displaying to you all of the funding programs which are available at this time for you to apply to.
This not only saves you a lot of time from digging on your own through hundreds of programs but get's you the direct access to the programs which you need to apply to. Not to mention, access to our experts who once you obtain the applications, will help you further.
Application Guidance and Review Service
Prior to introducing the funding application guidance and the review service, we would get a few hundred requests each week of members asking for guidance with the applications offered by the government of Canada and it's various programs – not to mention, those who complete the applications asking for a second look.
One of the biggest reasons why individuals applying for funding get denied is because they make simple application mistakes.
In fact, mistakes that are made are very avoidable if you have a 2nd look or have an expert review. Which is why this service was implement for our members.
Once you've obtained the applications for the programs which you want to apply to, contact the experts assigned to you and have them guide you step by step through the application to ensure that you've understood all the details correctly. After completing the application and before sending them out to apply – have an expert provide you a final review!
A properly reviewed application can mean the difference between getting funding approved or denied.
1000+ Business Documents & Templates
When starting a business you never know what you might need in terms of the type of documents, checklists, templates..etc
Not to worry, with the StartupDocs section of the Small Business Startup Portal, you have access to over 1,000 business documents that you can download, edit..etc
No matter if you need a non disclosure agreement, a hiring of staff document, a business plan template..etc, it's all there for you to use and benefit from!
Tools and Resources Access
In addition to having over 1,000 business documents and templates, you are provided with even more.
In the tools and resources section of the platform you have access to many useful checklists, financial documents and multiple business plan templates.
Balance Sheets, Break-even Analysis, Cash Flow Forecasts, Employee Time sheets, Generic business plan templates.
This is one source of useful tools and resources that is constantly being updated with new ones to ensure your success as you venture in starting your own business.
The Ask an Expert Program

One of the best features of the Canada Startups platform. This is the one that get's you in touch with our small business experts, our business plan experts and the business funding experts.
This, if you need help 24/7 is the tool to use to get all of your questions answered.
Using the Ask an Expert program will ensure you get step by step guidance, answers to any questions, your business plan reviewed, your PitchDeck reviewed, a personalized funding report completed, your funding applications reviewed and much more.
With all of these services offered via the Ask an Expert program it's like having a team of experts in your office, helping you 24/7.
List of Funding Recipients
While this may not directly help you get funding, it does give you a bit of perspective to aid you in your funding search.
The list of the funding recipients show you the companies across Canada who have been successful at obtaining government funding. These companies are from various cities, various provinces, industries and have obtained the funds for various funding needs.
It is a good way to look at those who have been successful, perhaps even reach out to them to seek more information but mainly for you to see that the funding is there!
Crowdfunding Directory
Crowdfunding is an excellent way to source funds for your business.
While most people know of the few top crowdfunding sources across Canada, our platform here at CanadaStartups provides you access to the full directory of the top crowdfunding sites across Canada. Sorted by province and a brief explanation of what each one is known for.
Take advantage and use the crowdfunding database to get your business funded!
Your Business Logo!
As a business that is starting up, a logo means a lot.
Your logo goes on your website, on your business cards and on your business plan. In many cases, your logo represents your business and is the branding of your company – which makes it very important.
A professionally designed logo can cost upward of $150, but as a member of the Canada Startups platform, you benefit from being able to obtain a professionally designed logo from one our partners for only $50+ tax.
To get this deal, simply become a member and let us know you're ready for your logo to be designed – and best part of it is that you get 3 variations to select from.
24/7 Member Support
Not many places will give you 24/7 support for your business.
But we here at CanadaStartups.org believe that a true entrepreneur never really sleeps – so we make sure that our experts are available 24/7 for all of your small business needs.
If you have a question about your small business, business plan, pitchdeck, funding search, or if you're just stuck on something – our experts are here to help!
1 Year Membership
As a member of Canada Startups, you remain a member for a period of 1 year from the date you register.
Why 1 year?
Well, most people have a tough time within the 1st year of their business so our experts ensure that you have the support you need to get though that tough time.
With your one year membership, you are assigned an expert who will work with you every day to ensure your success though the steps of our platform and service. This means that your expert becomes familiar with you, your business and your needs – which in the long run is like having a dedicated person working with you.
These are the top 20 ways that becoming a member of Canada Startups can help you and your business to succeed.
Each of the above ways has been created to ensuring that you as a small business have all that you need to successfully start your business, to build your business plan, find funding and get the help you need.
To register as a member, simply visit this page right here.
SEARCHES RELATED TO YOUR SMALL BUSINESS STARTUP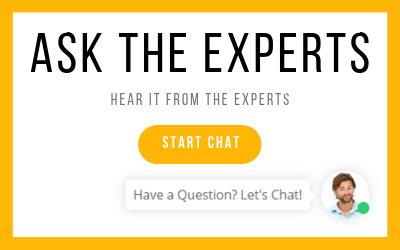 I WANT START A BUSINESS IN...
IS THERE HELP IN MY INDUSTRY?
Try the Startup Assessment now and find out what your business needs to succeed.